Frames
All our frames are designed and made by hand using a variety of woods
and other materials to create a range of bespoke finishes. We have an
extensive moulding range which enables us to make a wide variety of
shapes and styles to suit every need.
Each frame commission begins with a consultation between the
client and one of our team. We help guide our clients through the design
process in order to create a frame that best complements the art it is entrusted to protect.
Natural Wood and Stained Wood Frames
We use a variety of wood types which can either be finished with a stain or with a clear wax to show their natural colour. Our wood types include ash, tulip, oak, walnut, maple, and cherry. You can see samples of our whole stain colour range during consultations in the studio.
Sprayed Frames
Our sprayed frames can be made in custom colours, matched to a RAL chart, and can either be matt or glossy. Spraying achieves a completely smooth and consistent finish, so it's perfect for contemporary galleries who want a sleek look for their exhibitions.
Hand-Painted Frames
We can apply any paint colour to our frames, either onto gesso to achieve a smooth look, or straight onto the wood so that the grain texture shows through. If you have a particular branded paint shade that you'd like to use, we can colour match that exactly.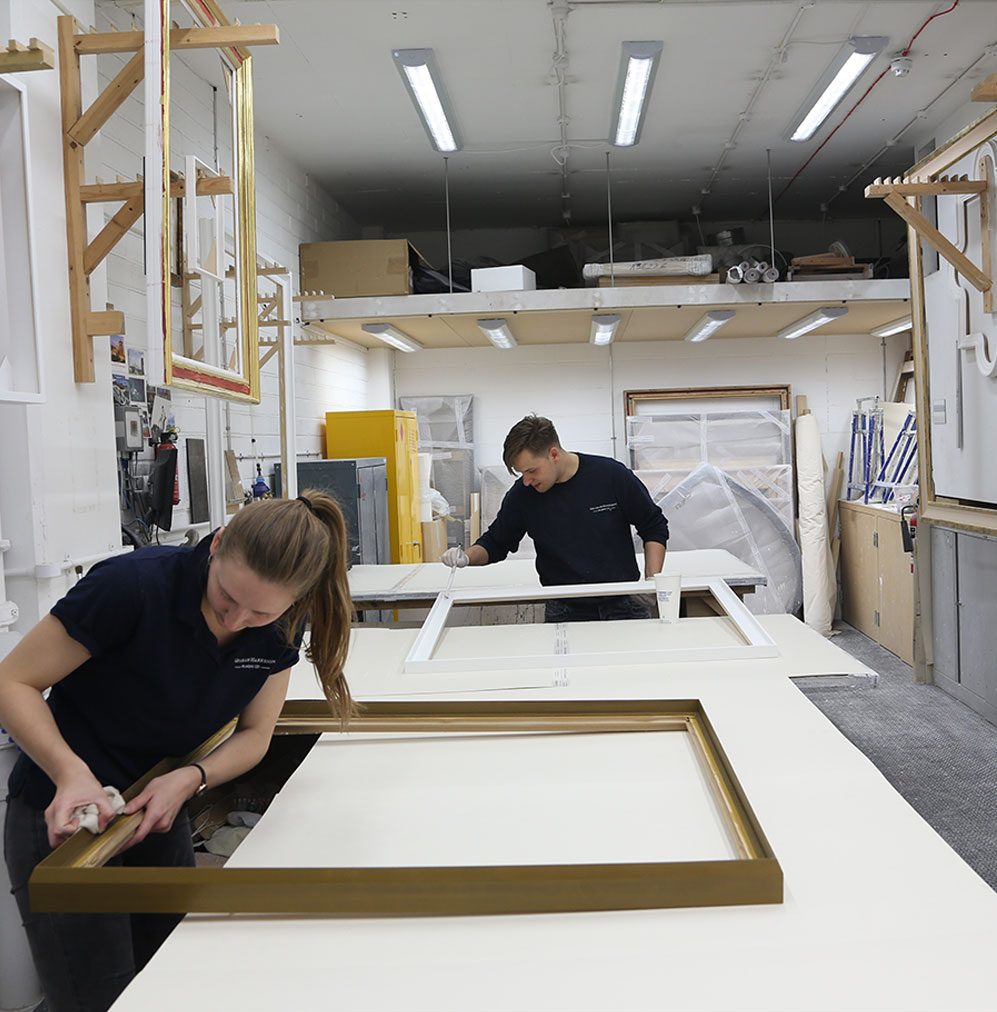 Special Finish Frames
We're known for our special finishes which have all been created by our fantastic finishing team. From wood veneers to tarnished metal leaf, our special finishes are particularly favoured by interior designers who want to add some personal style to their clients' artworks or mirrors.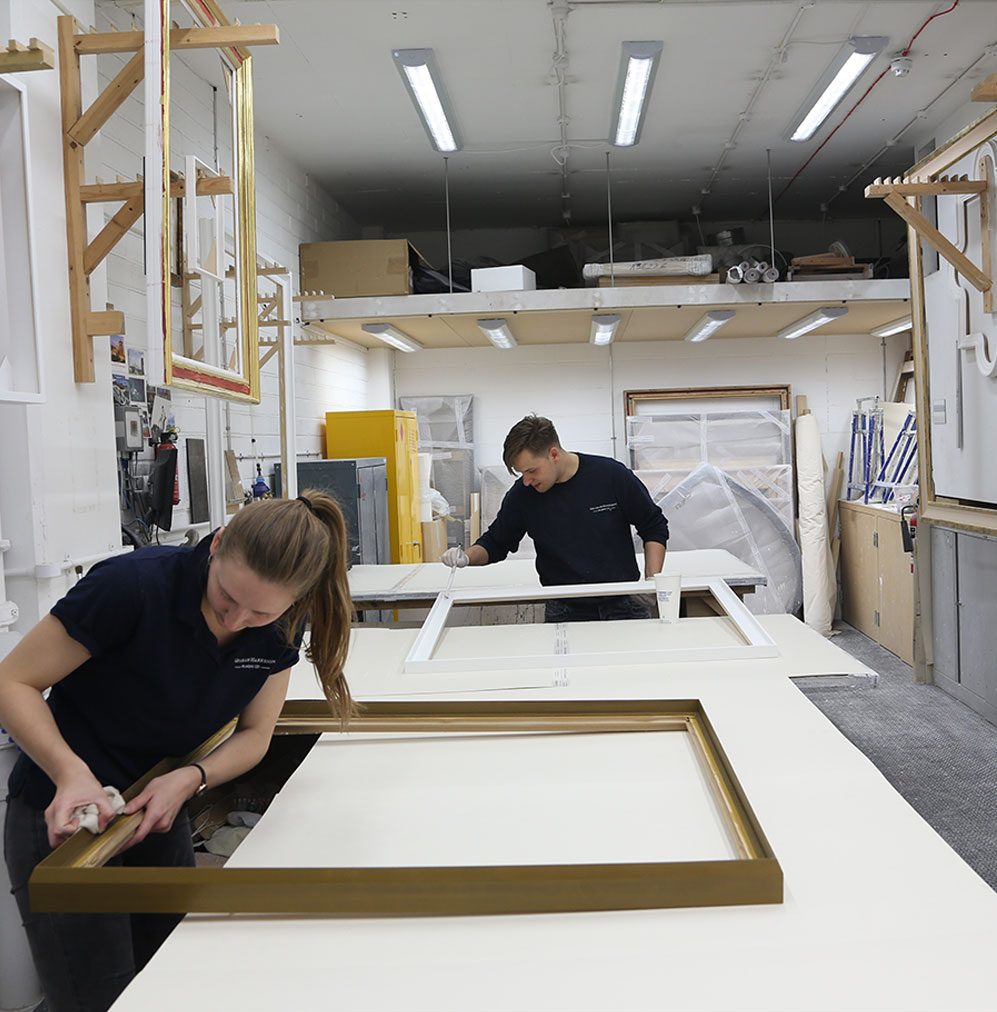 Gilded Frames
Using traditional gilding techniques, our highly skilled finishers are able to work with a variety of gold or metal leaves to produce a whole range of different looks. If you're looking for something timeless, gold is a great option as it can be both traditional and contemporary at once.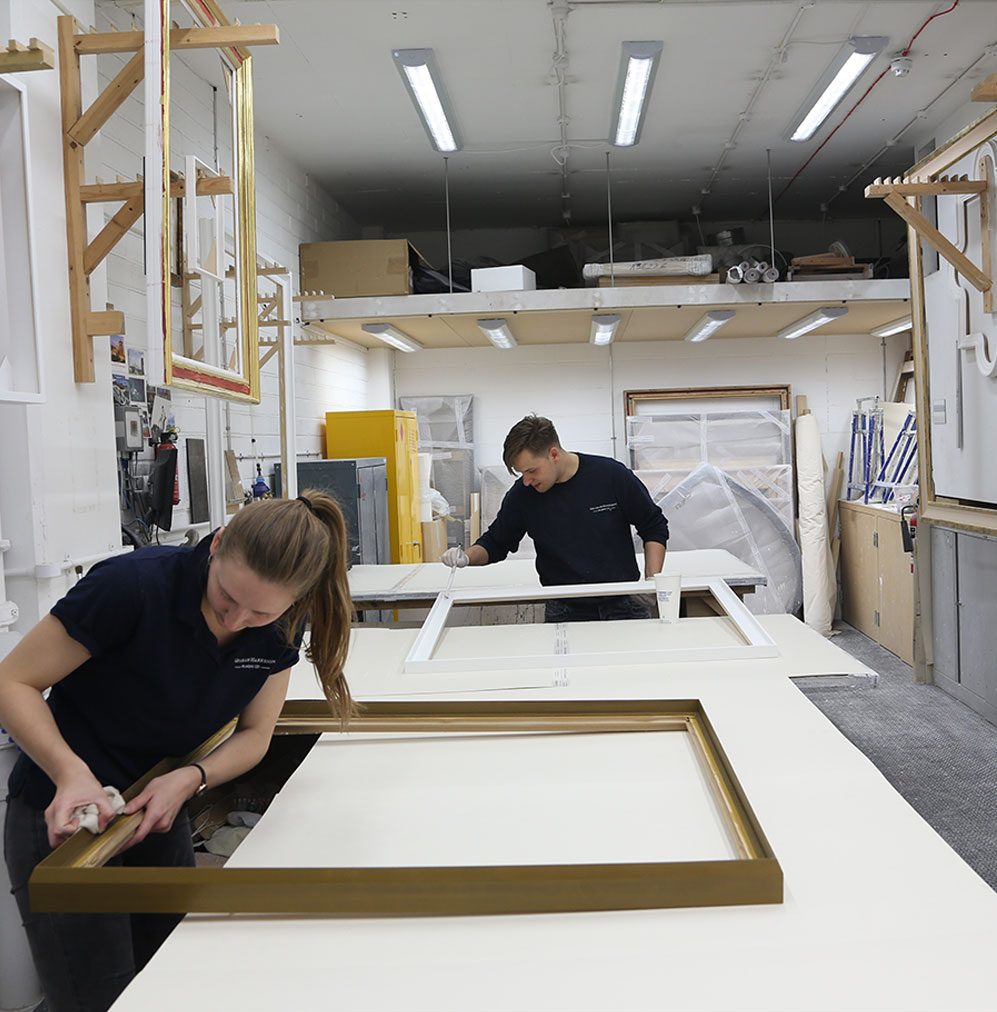 Metal Frames
As well as timber, we can also produce metal frames in a range of materials and finishes. These frames are welded in the corners for a seamless result – one you can only get from highly skilled craftsmanship. We offer aluminium, brass, and steel frames which can have a number of metal finishes applied to them.